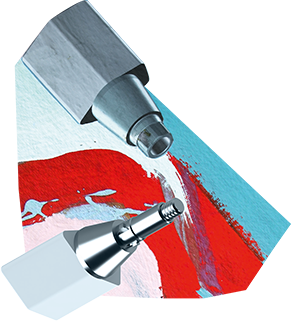 Scan, design, produce.
The high-quality FOLLOW-ME! scanbodies are the ideal hardware for the hyperDENT® Implant Module.
All components are perfectly compatible guaranteeing a simple and smooth workflow. The universal hyperDENT® Screwdriver with slip clutch for consistent tightening torque and the accompanying libraries complement the offer. In addition, databases are available for import into the CAD systems from 3Shape, Exocad and DentalWings. CAM libraries, which can be purchased separately, ensure a smooth transfer of information to hyperDENT® and the involved millable implant interfaces.
hyperDENT® Implant Components
Perfectly adapted implant components for first-class implantology results.